Parks Can Can Canada
About Ric Wallace
Ric sees the world in pictures and has the talent to tell a story without saying a word. He speaks through the images he creates, whether for business or pleasure. Wildlife photography is one of his great passions.
WildlifeOfCanada.com is the inspiration of photographer Ric Wallace of Virtual Edge Communications. Our objective is to capture the natural beauty of Canada's diverse wildlife.
Virtual Edge Communications invites you to try Square. You will receive free processing on up to $1,000 in credit card transactions for the first 180 days*. Afterwards, you pay the standard 2.65% per swipe for all major credit cards**.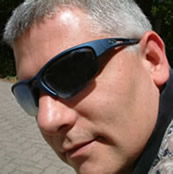 Ric Wallace


Wildlife Photographer
Online Marketing Specialist
White Rock / Vancouver BC
Pacific Time
Open 8 am to 10 pm
Tel 604-259-0105